Fighting card fraud for you!
You've seen the headlines. Every year, the number of data breaches and incidents of stolen personal information seems to rise. That's why it's more important than ever for financial institutions to invest in a comprehensive fraud protection solution that protects members from fraud and offers a slice of peace of mind. And that's just what we did….
Manage My Cards Puts Cardholders (Members) in Control.
If you are interested in managing your debit card(s) online, we've got an app for you. Card Management gives you the ability to turn your cards on/off and receive instant alerts on your mobile devices for all your card activity. It also lets you restrict card usage based on personal preferences including geographic location (ie. only allow transactions around you), type of merchant, type of transaction, and threshold amount. You can even restrict your child's card to certain merchant types and/or limit dollar amounts. Card Management gives you control over your card — All at your fingertips.  It helps you foil fraud.
You'll find Manage My Cards in the PCFCU online Mobile App.
CardValet has changed to Manage My Cards.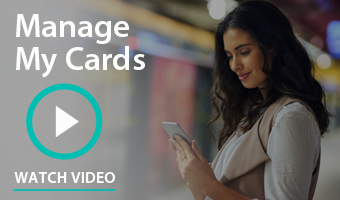 Registration
You sign up for this product from within Mobile Banking. Locate the "cards" button at the bottom of your screen. Follow the prompts the app gives you.
Learn more from by watching the video to the right.
NOTE: if you have trouble registering, verify that the address, SSN, and Expiration Date you are entering in the Manage My Cards app matches the information we have at PCFCU.
Next Steps!
Manage Card: Set your control preferences; your alert preferences; and view your recent transactions.
Set Preferences: Select Transaction Types you want on or off, such as: in store; eCommerce; mail/phone orders; auto pay; ATM; others.
Notifications:  You'll be alerted to denied transactions as well as allowed. Simply swipe the alert for transaction details.
And of course, if you have difficulty getting signed up for Card Management, give us a call or stop in any branch, we're happy to help.